【佰日梦】羊毛毡人物色彩细节分享--How to choose wool colors when needle felt portrait.
佰日梦仍在继续,我们仍然在尝试如何用羊毛毡针毡工艺,做出更多的效果。
之前一周,一直在尝试各种肖像细节和效果。
I've tried some parts of body portrait by needle felting last week.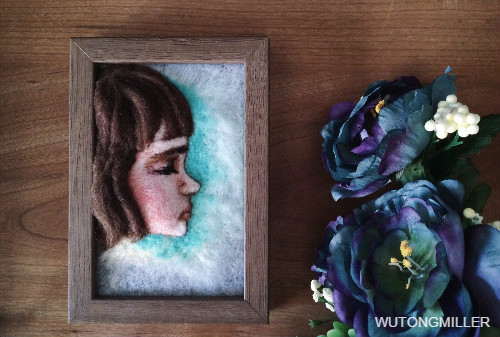 平面小清新风格的嘴唇,由于背景色里混入了比较冷的浅蓝绿色系,所以嘴唇从底色到最深的唇线,选择的也是由粉到紫的渐变色,而不是感觉比较暖的棕红色系。
I was dedicated on how to choose colors so the handfelted work can be beautifully finished.
First step, notice the background. If the whole feeling is chill, then the colors I chose to make the lip are all from cold light pink to dark purple. I've never use brown or coffee colors as the lip line in this clip.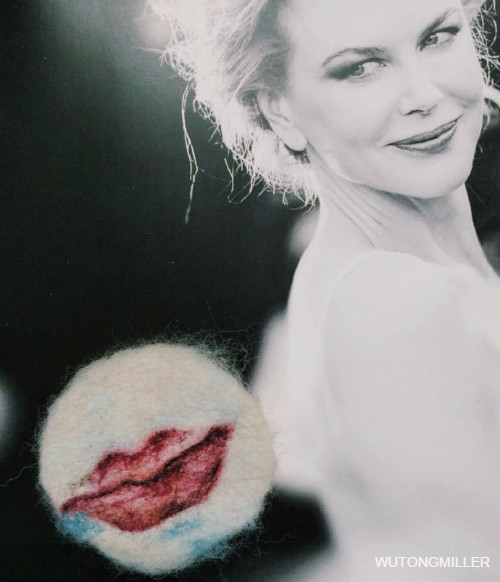 下面这张立体大红唇的练习,是以亚麻色为背景色,所以也能直观看到我选的底色是比较暖的豆沙色。
While as a contrast, this up coming lip work, considering its warm flaxen background, I chose a warm maroon as basic color.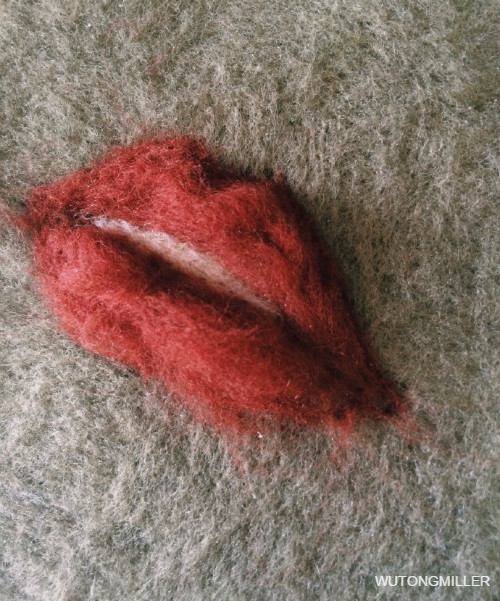 下面这两张图的意思是,你以为你看到的嘴唇用了这三个颜色~
You need to spend time focusing on notice the colors in a portrait. Take this lip as an example, we would normally feel it only contains those 3 colors when just glancing.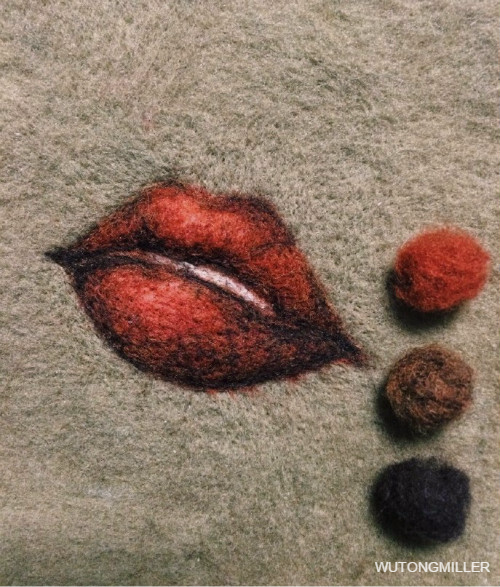 其实高光也是有层次的,阴影也是要丰富的,所以其实呢,是用了六种颜色。
立体造型经常因为本身立体有阴影,而有些人会选择不做颜色渐变细节,而这种办法的话,在平面嘴唇的塑造中就无处可躲了。
But in fact, the high light is also need grades of colors to be realistic. So the actual wool roving I've been used are 6 colors.
Some won't make so many shades when create 3D portrait, because there're shadows already existed, but this is not how you can do in the 2D effect. So don't be lazy, keep sharpen your eyes!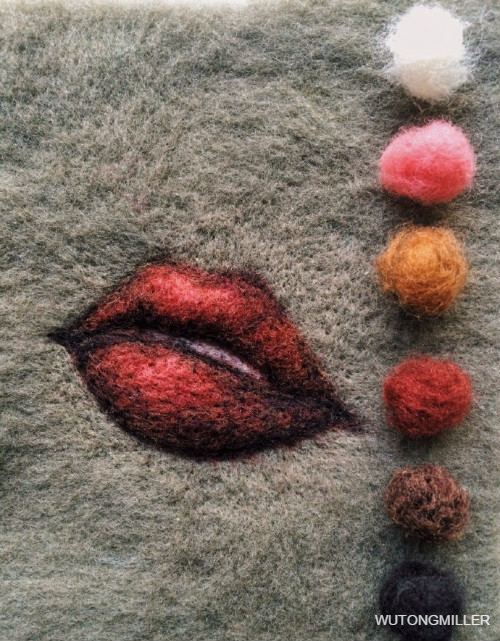 不同的用色,做出的就是不一样的感觉,放在一起就看出了一冷一暖,一小清新,一热烈生活,你们喜欢哪个呢?
You can see the difference when put these two lips together. one is more young and chic, one is more sexy.
So, pay attention to the color combination.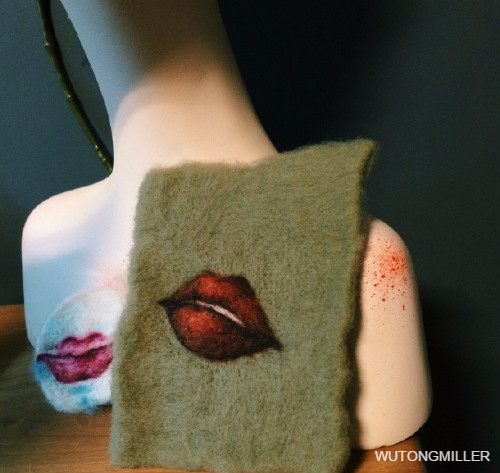 之后某天进行了眼睛的色彩研究,效果挺出乎我自己意外的,因为这整体看起来比较像油画配色的感觉,而其实用到的羊毛毡都是明度比较高的黄棕色系。
And finally this yellow eye. I really adore this one. I was quite surprised by this resualt because all the colors I use were grades of bright yellow, of course except the darkest brown and black. But it told me that even bright yellow could be combined with dark brown and made a harmoney decay effect.
So the point of needle felting a beautiful portrait is keep trying, practicing, then reflect, and repeat this cycle again and again.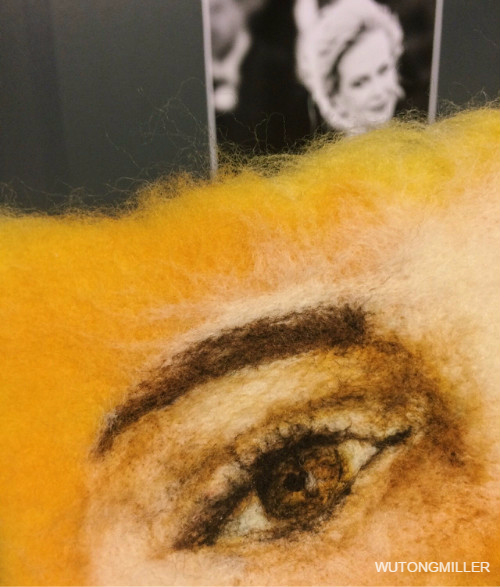 有人说,看色彩用的对不对,就把图片调成黑白,看结构是否依然在,于是嘛~~还可以~~
To check if your colors worked right then make the photo black and white, so you can see, if the structure still exists, then it's right.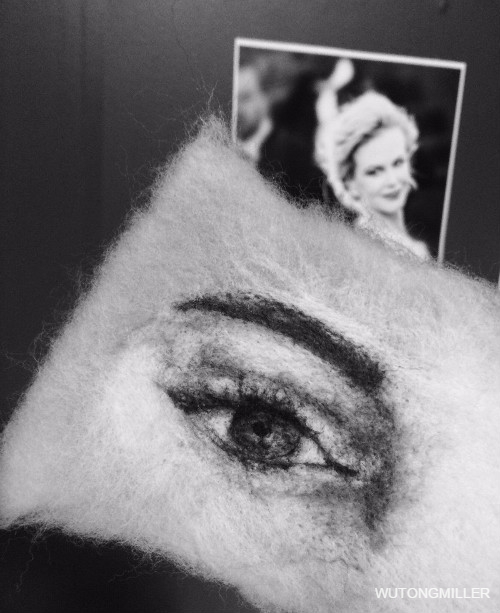 经过各种细节尝试,昨天随手试了一下浅浮雕的肖像。
And this upcoming soft sculpture was made yesterday.
I intend to wool felted a little girl, so the colors I chose were from cold pink and cold turquoise.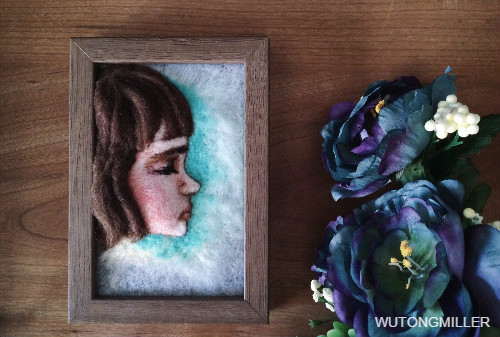 女孩与兔子~
Girl and the bunny!

微蹙的眉头和眼眶里的阴影的确是用了很久。
因为想做的是个小女孩,考虑到皮肤通透冰凉粉嫩,所以背景色我用的也是比较凉凉的苏利文蓝。
Pay attention to the grades of shadow under her frown.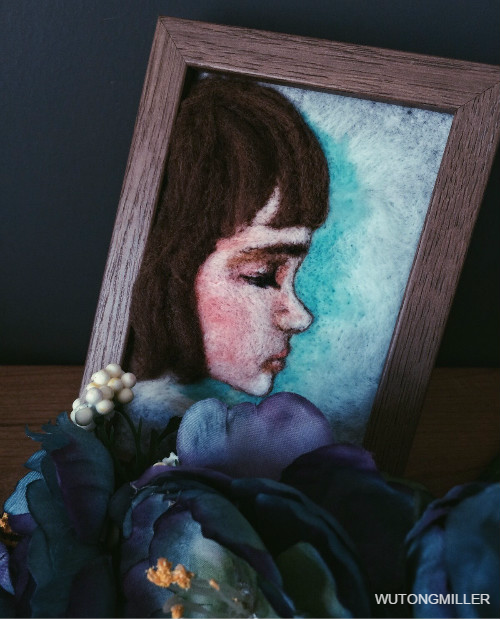 粉蓝色一直是小女孩的最佳配色,给拥有无限童心的你们~~
Final, right side were the basic wool colors, I didn't listed all the wools, just the massive colors I used in this portrait, so you can have a basic feeling of how to use color combination.